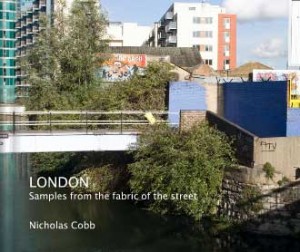 Artful Marketing's president, John Wysocki, recently edited a collection of photographs taken by London, UK artist Nicholas Cobb that was self-published by the artist in January 2011 as LONDON: Samples from the fabric of the street. The collection was drawn from Cobb's three previously self-published volumes in his LondonStreetViews series and distilled down into one coherent body of work by Wysocki.
Here's what Wysocki said in the Editor's Notes that appeared in the publication:
"When I edited Nicholas' three original LondonStreetViews collections to distill them down into one coherent body of work, I tried to reveal the aesthetic style that Nicholas consciously (and subconsciously) would have used to create his compositions. As a photographer myself, sometimes it is not apparent what one is trying to capture or how a particular approach is being used until after a body of work has been produced and, perhaps more importantly, critically analysed.
Rendering spatial depth as picture planes, so as to appear flat or painterly, served Nicholas well as a means to achieve his compositions and provided a clue as to how the work should be edited and organized into a definitive collection. It is obvious that Nicholas' art-school background and twenty years of painting abstracts have exerted their influence on his photographic approach in this collection of images, especially as the collage-type photos make clear.
While this collection of disparate images, by its very nature, does not have the narrative thread that ties together Nicholas' photographs of miniature dioramas he has built – including an office park, shopping centre car park and high streets – it is nevertheless imbued with certain unifying aesthetic threads.
Nicholas set himself the formal task of looking for very specific compositions on his excursions into the urban landscape rather than relying on chance to capture fleeting images. That most of his photos are devoid of inhabitants undoubtedly made his task easier to accomplish. What Nicholas has captured in his inimitable style is an essential element of urban life – the urban fabric of streets and buildings that make up the urban environment itself.
John Wysocki is a professional photographer and arts promoter who was born in Peckham (and used to frequent Rye Lane, subject of one of Cobb's dioramas, in his youth) and moved to Forest Hill before being awarded an exchange scholarship by University College London for an M.Arch. program in Lawrence, Kansas. 30-odd years later he is still living in the US and is heavily involved in the arts, and always on the lookout for the work of talented artists to promote and artists' careers to mentor."
About Nicholas Cobb
"Nick is an artist and educator who moved from abstract painting 6 years ago to concentrate on building and photographing miniature dioramas. He has built up a body of work which includes office parks, shopping centre car parks, replicas of London city streets and fast food restaurants. Each project ends its life as a series of narrative images which culminate in the production of a photobook. He has exhibited extensively. His recent work has been influenced by the late novels of J.G. Ballard."
– Nick Cobb